Greenhouse - Winter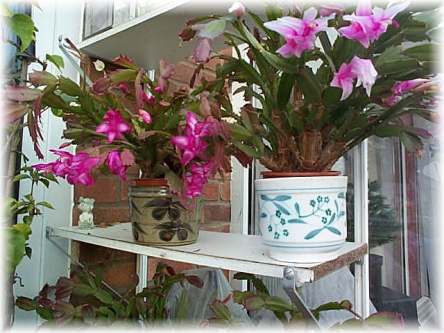 Christmas Cacti (Schlumbergera) in the upper picture and a selection of Cyclamen and Primulas (lower picture) in flower in the greenhouse in mid winter. All these plants have a long flowering season in the greenhouse which is kept at a minimum of 4 degrees C. They have a shorter season when kept in a warm room inside the house.
The Christmas cacti are easy to look after. I water (with a weak feed) weekly in summer and keep them just moist in winter until they have finished flowering. I then keep them on the dry side for a month or two before commencing watering again in spring.
The Cyclamen are watered until early summer and then stored dry until early autumn when the corms are re-potted and watered to start them into growth again. I am always careful not to wet the base of the plant when watering Cyclamen as they are prone to mildew if the base of the leaves gets too wet and I have lost a few plants in the past due to this.
I plant the Primulas outside in the garden when they have finished flowering as it is not worth trying to keep them in pots for next year. It is easier to buy new plants for the greenhouse in autumn as there are lots of varieties in the garden centre at this time and they are relatively inexpensive.